Keep up with the latest news coverage of Barbaricum's work and take advantage of the resources that we've developed.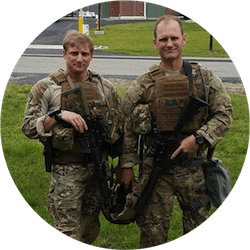 In May, Jason Grundy placed 2nd overall in the Asymmetric Warfare Group's annual Pittman Challenge. Grundy and his teammate, MSG Patterson, also came in first place for two events. The course was approximately six miles long and the two-person teams completed the challenge wearing body armor and helmet, and carrying a gas mask and two weapons.
Each team had to complete an obstacle course, a Land Navigation course in full protective gear, including gas masks, treat a medical casualty in a gas chamber, and prove marksmanship on a M4, M9, and a Mossberg 500. They had to use primitive weapons, including a bow, a hatchet and slingshot, to "kill" a target. The teams then operated in a subterranean scenario, emerging to climb up the rappel tower with ropes and caving ladders and set up a PRC-150 radio to establish communications. Finally, the teams entered Pittman Range, AWG's indoor shooting facility, to complete another shooting scenario, some of which was done while wearing a gas mask.
Grundy is hoping to improve his scores next year to take first place in 2017.