Keep up with the latest news coverage of Barbaricum's work and take advantage of the resources that we've developed.
Barbaricum Delivers Award-Winning Work for Its Client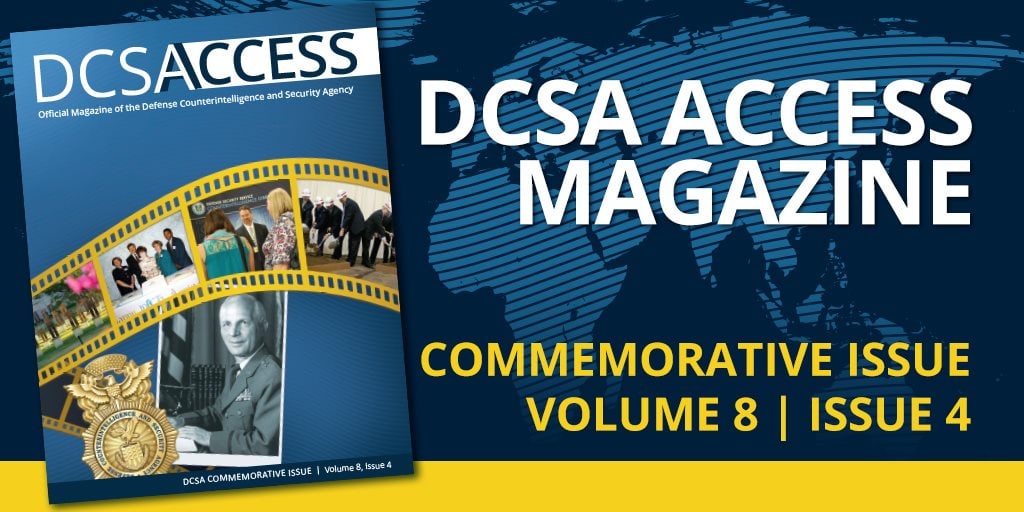 ---
FOR IMMEDIATE RELEASE
May 21, 2020
Media Contact:
Alicia S. Davidson
Phone: 202.393.0873
Email: Alicia.Davidson@barbaricum.com
BARBARICUM DELIVERS AWARD-WINNING WORK FOR ITS CLIENT
Barbaricum support results in two integrated communications awards for the Defense Counterintelligence and Security Agency
WASHINGTON, D.C., May 21, 2020 – Barbaricum's integrated communication support for the Defense Counterintelligence and Security Agency (DCSA) resulted in awards by the Defense Media Activity and the Academy of Interactive & Visual Arts (AIVA) in May 2020.
Barbaricum provides essential branding and change management services to DCSA that supported the agency's successful rebrand from the Defense Security Service as it took on the federal government's background investigation mission from the Office of Personnel Management's National Background Investigation Bureau and other elements. Barbaricum delivers integrated communication efforts to DCSA, including strategic communication and planning, brand management, graphic design, social media, writing, and editing, as well as reporting and analysis.
In May 2020, the Defense Media Activity awarded DCSA's Commemorative Issue of ACCESS Magazine the Defense Media Merit Award in the Publication category. To support DCSA in producing award-winning work, Barbaricum provided writing, editing, graphic design, and 508 compliance / accessibility services to produce a magazine edition that would introduce the new agency, honor the legacy agencies, and showcase the new agency brand and culture.
Additionally, the AIVA awarded DCSA's "Transfer, Transition, Transformation" social media campaign an Award of Distinction for a Content & Marketing-Branded Social Post. Barbaricum provided social media and graphic design services that planned, implemented, monitored, and evaluated the campaign. Barbaricum was able to successfully design its outreach efforts to help DCSA increase awareness of the new agency and engage target audiences about its new background investigation mission.
"Congratulations to DCSA and the entire Barbaricum team for their outstanding work and dedication to mission support," Brandon Bloodworth, Barbaricum Partner said. "Ensuring we support our client's missions is why we do this work. We're grateful to provide integrated communications services to DCSA and look forward to celebrating more award-winning work for the agency!"
# # #
ABOUT BARBARICUM
Barbaricum is one of the fastest-growing companies in our market. We support government clients with Integrated Communications, Mission Support, and Cyber Security/Intelligence services. Our passion is innovation and we are committed to client value and effective technical solutions. We are an ISO 9001:2015 and CMMI Level 3-appraised, Service-Disabled Veteran-Owned Small Business (SDVOSB) located in Washington, DC. Our mission is to transform U.S. Government approaches to problem sets of increasing complexity by delivering innovative solutions, especially in support of National Security missions.
The company has been recognized by institutions like Inc. Magazine, GovCon, AMEC, PRSA, and SmartCEO for corporate growth, capabilities, and award-winning client work. Our team is dynamic and agile, providing global support to current missions across five continents. We are also focused on developing and maintaining our vibrant corporate culture, having been named a Best Workplace by Inc. Magazine and The Washington Post.
To find out more about Barbaricum please visit our website at https://barbaricum.com.
ABOUT DEFENSE COUNTERINTELLIGENCE AND SECURITY AGENCY
The Defense Counterintelligence and Security Agency is an agency of the Department of Defense that provides the military services, defense agencies, 33 federal agencies, and more than 13,000 cleared contractor facilities with security support services. The Under Secretary of Defense for Intelligence provides authority, direction, and control over DCSA.
ABOUT DEFENSE MEDIA ACTIVITY DEFENSE MEDIA AWARDS
The Defense Media Awards program honors excellence among military and civilian broadcasters, graphic artists, journalists, photographers, public affairs practitioners, mass communication specialists, and videographers. It also fosters an environment of innovation and growth, leading to more effective communication programs.
ABOUT ACADEMY OF INTERACTIVE AND VISUAL ARTS COMMUNICATOR AWARDS
The Communicator Awards is the leading international awards program honoring creative excellence for marketing and communications professionals. Founded by passionate communications professionals over two decades ago, The Communicator Awards is an annual competition honoring the best digital, mobile, audio, video, and social content the industry has to offer. The Communicator Awards is widely recognized as one of the largest awards of its kind in the world. The Communicator Awards are judged and curated by the Academy of Interactive and Visual Arts (AIVA). The AIVA is an assembly of leading professionals from various disciplines of the visual arts dedicated to embracing progress and the evolving nature of traditional and interactive media.