Keep up with the latest news coverage of Barbaricum's work and take advantage of the resources that we've developed.
Barbaricum Wins 2021 PRSA Bronze Anvil Award for Top LinkedIn Engagement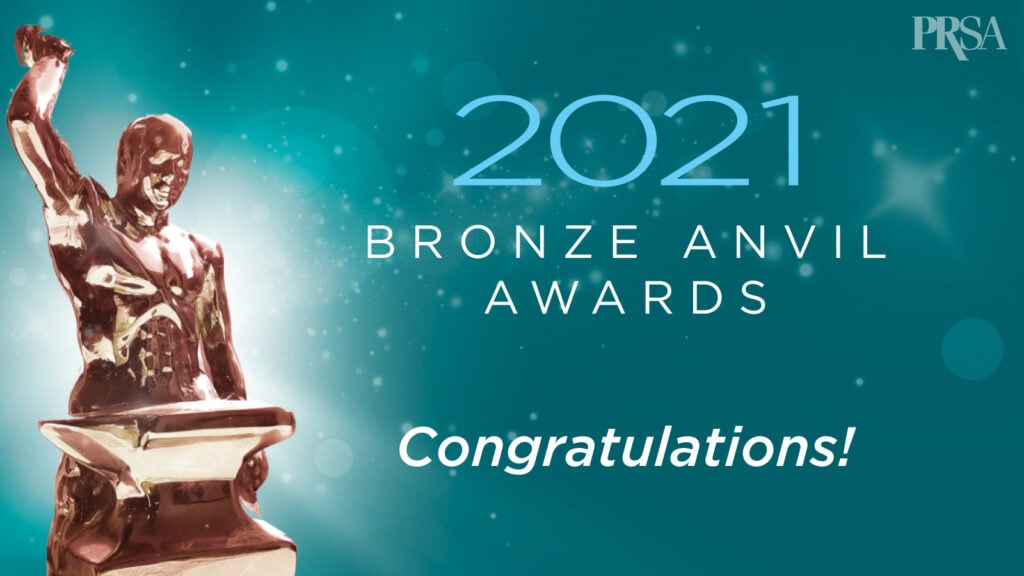 ---
FOR IMMEDIATE RELEASE
May 26, 2021
Media Contact:
Alicia S. Davidson
Phone: 202.393.0873
Email: Alicia.Davidson@barbaricum.com
BARBARICUM WINS 2021 PRSA BRONZE ANVIL AWARD FOR TOP LINKEDIN ENGAGEMENT
Barbaricum's social media support to Aptive Resources and the Department of Veterans Affairs for Talk About it Tuesday series wins Public Relations Society of America Bronze Anvil Award
Washington, D.C., May 26, 2021 – Barbaricum, in support of Aptive Resources and the Department of Veterans Affairs' national healthcare recruitment (VA Careers), was awarded the Public Relations Society of America (PRSA) 2021 Bronze Anvil for LinkedIn Engagement. The PRSA judges selected the VA Careers weekly live broadcast series, Talk About It Tuesday, as the best public relations LinkedIn engagement tactic executed in 2021.
As COVID-19 pushed all strategic communications efforts to a virtual environment in 2020, VA Careers needed a solution that would stand out while increasing brand engagement in a digital space with heavy, professional "foot traffic." With the objective to educate, incentivize and encourage target audiences to decide that VA Careers is the most favorable healthcare employer, Barbaricum provided a solution to Aptive Resources that was scalable and delivered directly on VA Careers annual goals. Our strategy provided a turn-key service, where VA Careers could connect directly with LinkedIn audiences, providing candid, relatable and helpful information about career advice and gaining VA employment.
As a result, Talk About It Tuesday provided a unique situation for all publics to interact directly with previously "out-of-reach" VA personnel and leadership, increasing favorability and trust in the organization. In one year specifically, our team was able to:
grow VA Careers LinkedIn page followership by 48%
increase VA Careers LinkedIn average daily followers by 79%
surge LinkedIn audience commentary by 508%
improve audience traffic to VA Careers LinkedIn page by 9%
"I'm proud of the team's consistent focus on taking client wins to the next level," Scott Feldmayer, Barbaricum Partner noted. "In our partnership with Aptive, we built a solution from scratch, during a global pandemic, that defines exactly how Barbaricum actualizes continual improvement—find those cutting-edge solutions and make them a consistent reality. Congratulations to our team and VA Careers for the PRSA Bronze Anvil award, well deserved!"
# # #
ABOUT BARBARICUM
Barbaricum is one of the fastest-growing companies in our market. We support government clients with Integrated Communications, Mission Support, and Cyber Security/Intelligence services. Our passion is innovation and we are committed to client value and effective technical solutions. We are an ISO 9001:2015 and CMMI Level 3-appraised, Service-Disabled Veteran-Owned Small Business (SDVOSB) located in Washington, DC. Our mission is to transform U.S. Government approaches to problem sets of increasing complexity by delivering innovative solutions, especially in support of National Security missions.
The company has been recognized by institutions like Inc. Magazine, GovCon, AMEC, PRSA, and SmartCEO for corporate growth, capabilities, and award-winning client work. Our team is dynamic and agile, providing global support to current missions across five continents. We are also focused on developing and maintaining our vibrant corporate culture, having been named a Best Workplace by Inc. Magazine and The Washington Post.
To find out more about Barbaricum please visit our website at https://barbaricum.com.
ABOUT PUBLIC RELATIONS SOCIETY OF AMERICA BRONZE ANVIL AWARDS
The Public Relations Society of America (PRSA) is the nation's leading professional organization serving the communications community. PRSA is the principal advocate for industry excellence and ethical conduct and provides members lifelong learning opportunities and leading-edge resources to enhance professional connections and support them at every stage of their career. With nearly 30,000 members, PRSA is collectively represented by 110 Chapters and 14 Professional Interest Sections, and on nearly 375 college and university campuses through its student organization, the Public Relations Student Society of America (PRSSA). For more information, please visit www.prsa.org. For more than 45 years, PRSA's Bronze Anvil Awards have recognized the best of the best in public relations tactics—the use of social media, video, blogs, podcasts, annual reports, digital newsletters, websites—that contribute to the success of overall programs or campaigns.