Keep up with the latest news coverage of Barbaricum's work and take advantage of the resources that we've developed.
Supporting Your Team on International Missions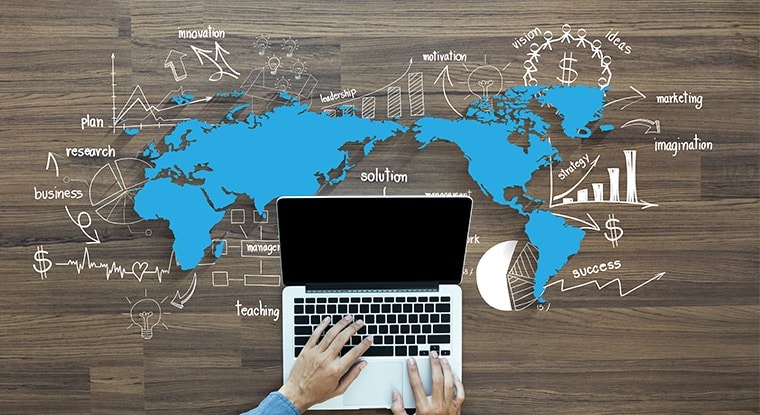 By Armand Cucciniello, Barbaricum Lead Strategic Planner
Thought: How do you gage the health of a contract? Let's take it up a notch, how do you know if a contract is successful when your team is halfway across the world? Barbaricum does it by identifying and empowering effective leaders that can manage the contract and its team members. This is a large component of Barbaricum's success. Armand is one of those managers and, in this feature, he shares some lessons learned that he's gathered over a 16-year career of managing internationally focused public relations and communication strategy work.
Every contract I have worked on, every team I have been a part of or managed, and every country I have lived in have been—needless to say—very different from one another. I have lived, studied, and worked in all corners of Asia for more than 10 years of my 16-year career in public relations, communication, and foreign affairs. My international career began in 2003, where I worked as a journalist in New Delhi and Mumbai. Later on, I served as diplomat and embassy spokesperson for the State Department in Iraq from 2006–2010. Before joining Team Barbaricum, I managed a capacity building program for the DOD in Pakistan and led a team of Pakistani nationals and American citizens working at the embassy in Islamabad.
Currently, I serve as the Team Lead for Barbaricum's Communications Strategy Support contract with U.S. Army Forces Korea. This involves living and working in South Korea, where I manage a dynamic, eclectic team comprised of Korean linguists, a behavioral scientist with a PhD in sociocultural anthropology, and a graphic designer who can create almost anything. These individuals receive continuous praise from our client and I could not be more proud, as their success reflects the success of Barbaricum's services on the contract.
Because my experiences are so varied, there are some lessons learned worth sharing. Managing a client's expectations, interests, and needs requires a balance in perspectives, a positive, but practical and down-to-earth attitude, and a passion for the work being conducted. Additionally, managers need to continually prioritize supporting the element that matters most, the team. As this support isn't always straight forward, here are some general—but useful—tips I've learned for managing contracts overseas:
Soak in the Atmosphere and Use It to Motivate Your Team
In fast-paced, high stakes, and sometimes physically dangerous locales, your mindset and how it radiates through your personality matters beyond what may be the norm. It is easy to get bogged down by the stress of dealing with tight timelines and long hours. But, don't lose sight of the bigger picture: International contracts tend to be novel, unique, and are executed in challenging locations where you are likely working for high-level officers or executives. Take the time to communicate this and what it means to your staff, and then repeatedly appreciate them even during non-stressful periods.
I learned this when I worked in Iraq—this was back in the days when the U.S. embassy was based in Saddam Hussein's former Republican Palace (2006-2008). I would take late-night strolls after most of the building had cleared out. I'd roam through the large corridors and hallways, step into the ballrooms, and remind myself I was a part of arguably the biggest foreign policy decision of my generation. Later on, when I managed the program in Pakistan, I was working in the joint operations center at the embassy the day the Osama bin Laden raid occurred. However heavy the workload, I did not let that overwhelm me or my team.
Now working in South Korea for USFK, I make it a point to emphasize to the team just how much of a privilege and an honor it is that we are working at a four-star command at what is perhaps the most critical juncture in U.S.-Korean relations in decades.
Be Useful, but Know Who's the Boss
Clients do not hire contractors tell them what they already know. They hire us to do provide solutions to their challenges. We bring subject matter expertise to the organization and make it have an impact across the enterprise. If I am not speaking up in meetings and giving my professional advice—at the right time and in the appropriate manner, of course—I am not doing my job.
As a contract manager, your support role requires you to understand what you and your team are, and what you are not. We are not the client's employees and, therefore, are not the people responsible for making the final decisions. We are, however, the subject matter experts who have an obligation to provide best-in-class services. The best advice I have on this is: Do not be afraid to give your team's professional viewpoint in meetings, but observe the client's culture and identify the right time and your delivery. Be sure to listen and adhere to the client's directives, and help explain them to your team so everyone achieves success together.
Bottom Line: Take Care of Your Team
We all want to please the client and provide them the best possible service! We cannot do that alone and without a team that is happy, motivated, and enthusiastic about the work being performed. As our team is working halfway around the world from Barbaricum headquarters, I think it is even more critical for me to ensure that I'm supporting the whole team and leading them to success.Make sure each and every team member feels valued, is able to voice their concerns and opinions without repercussions, and listen to their concerns—and do not be afraid to respectfully address those opinions or concerns with the KO, COR, or the client.
As a rule of thumb: Effective leadership is critical to the success of any contract, but supporting a team individually and as a whole is essential, and even more so when you're halfway around the world. If you are taking care of the client and the company's interests only, you are forgetting the cornerstone to client's, the company's, and, ultimately, your own success: your team!