Barbaricum's solutions are flexible, innovative, and pragmatic, leading to outstanding results.
About Leadership: ADP 6-22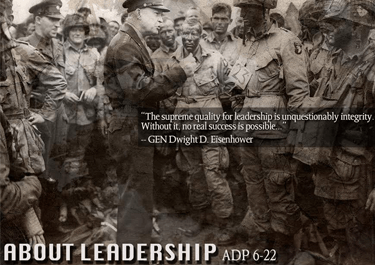 The Center for Army Leadership (CAL) produces the Army leader doctrine while helping the Army to develop leadership skills at every echelon. When a new edition of the Army's doctrinal publication on leadership was nearing completion, CAL tapped Barbaricum to assist with the launch.  Barbaricum developed a communications campaign and produced informative collateral to promote the new doctrine across the Army and industry. We also developed a video, "About Leadership: ADP 6-22," that captures insights from senior Army leaders to reinforce key themes and messages. The video debuted at the Fall Association of the United States Army (AUSA) in October of 2012 and included remarks from the Joint Chief of Staffs, GEN Dempsey, the Chief of Staff of the Army, GEN Odierno, AFRICOM Commander, GEN Rodriguez, and a host of other Army leaders.